THE 2024 GRANTURISMO IS COMING TO MASERATI JACKSONVILLE
The newly redesigned GranTurismo offers a sophisticated balance of power and luxury, while enticing those with its exhilarating drive. The GranTurismo is well equipped at $175,000 and boasts radical innovation, elegant expression of power, and cutting edge technology.
THIS SUMMER MARKS THE RETURN OF AN ICONIC ITALIAN SPORTSCAR
The Maserati GranTurismo has been redesigned for 2024 and we are now accepting reservations for Summer 2023 Delivery.
PERFORMANCE
There are two pristine options available with the new 2024 GranTurismos. The first is the Folgore - the First Full-electric Maserati Ever. The Folgore's battery pack layout allows the car to sit lower than any other electric vehicle, which in-turn, boosts acceleration and speed. The second option is the dynamic Nettuno. The Nettuno is a groundbreaking V6, 3.CL twin-turbo powerhouse that comes with two HP options: the Modena with 483 HP, and the Trofeo that powers with 542 HP.
0-60 in 3.7 sec.
(Modena) 483 HP / 3.3 sec.
(Trofeo) 542 HP / 2.6 sec.
(Folgore) - 750 HP
The ultra premium quality of Maserati's vehicles is evident in the Folgore, Modena, and Trofeo. With 0-60 in 3.3 seconds in the Trofeo, to 750 HP in the Folgore, the performance of these vehicles can satisfy any sports car enthusiast.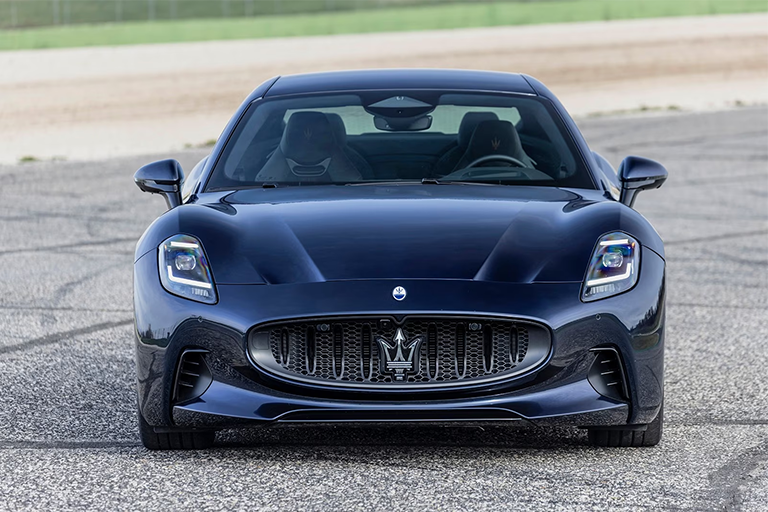 ROOTS FIRMLY PLANTED IN THE FUTURE
The GranTurismo offers sleek curves to enhance its ability to glide within the air. The trident on the front grille demands attention, as the full vertical LED headlights accent its bold character. New taillights make the GranTurismo appeal to those as it drives off and illuminate its attractive lines.
WORLD LEADING TECHNOLOGY MEETS LUXURY
Purposefully redesigned, the new GranTurismo embodies modern, Italian architecture and craftsmanship. Italian artisan tradition is paired with cutting-edge technology to create a clean, purposeful ambience with unparalleled attention to detail. Exclusive materials, deliberate design, alluring textures, digital screens, handcrafted sound, curated lighting.