Welcome to Maserati of Cleveland
Welcome to
Maserati of Cleveland
Maserati Dealership Serving Cleveland & Columbus, OH
Thanks for stopping by the official homepage of Maserati of Cleveland. We stock all the popular Maserati models that connoisseurs of beautiful Italian sports cars spend endless hours searching for when they need a new car. You'll love the performance and styling of these exotic beauties. And surprisingly, just about anyone can own one if they shop used or lease vehicle. Keep reading to find out more about Maserati of Cleveland.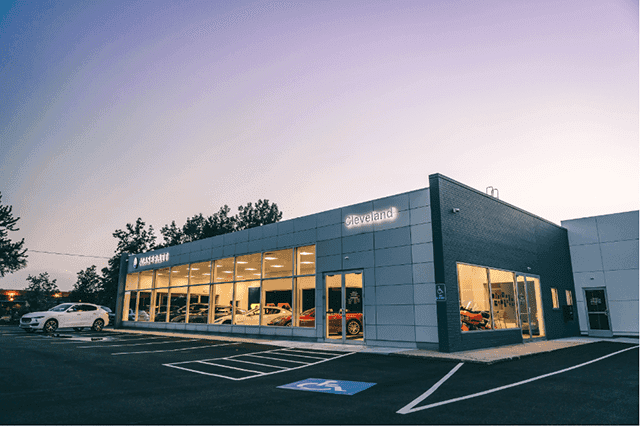 Leasing vs Financing at Maserati of Cleveland
For many years, car buyers had preferred financing because they would get years of satisfaction driving the vehicles after the payments were completed. Nowadays, people are entranced by the technological engineering advancements that come out every seven to ten years. For those of you who want the latest promotions, leasing is an excellent way to time an easy switch to the newest model. Financing still makes sense if you plan on incurring more than 15,000 miles a year or simply want to hold onto the vehicle as a collectible.
Maserati of Cleveland Used Inventory Near Cleveland, OH
Many will be surprised at how affordable a used Maserati can be. The market craves the latest technology and brand-new models. As a result, savvy shoppers can drive away with a real deal. Our premium selection of used vehicles surpasses the value of anything else out there for one reason: inspections. We thoroughly inspect and recondition our used cars to ensure that they are shining examples of what a used model should be. This saves you from the substantial risks of buying a dud vehicle that has all sorts of hidden damage or problems.
Authorized Service Center at Maserati of Cleveland
Of course, your new Maserati would be worth its weight in scrap metal if it didn't run. Our expert automotive service technicians are the premier choice for Maserati owners from all over the region. They treat every vehicle with kid gloves and focus on the technical details of every repair. They also have access to exclusive factory resources and tools that make the quality of their maintenance repairs superior to the work of general repair shops.
Furthermore, they only fix your Maserati with Genuine Maserati parts. If you put anything else in it; then, it's not a Maserati anymore, it's a replica. And collectors are all seeking vehicles that are in original condition and full of only factory parts. If you want to maintain your warranty and the value of your Maserati, you owe it to yourself to schedule service at our dealership. If you have it repaired somewhere else, they will likely use aftermarket knockoff parts and crude methods of repair because they lack training.
You'll be impressed with how smoothly your Maserati engine runs at even the quarter-million-mile mark when you have service performed by our factory-trained techs. They use the high-end premium synthetic lubricants that your Maserati needs and gear it towards performance. Stepping on the pedal is like firing up a rocket when you have zero friction interference.
Contact Us at Maserati of Cleveland
Thanks again for stopping by and showing your support for your local Maserati dealership. Please call us or fill out the contact form below if you have any inquiries. We look forward to hearing from you. Have a nice day.